We were comfortable with the remote work system even before it was trendy.
And we have always loved it!
Remote work gives us the flexibility to work from anywhere and get stuff done from our comfort space.
No more cubicle traps, no worries about the long commute to office or getting stuck in traffic, flexible work hours, travelling and working from anywhere in the world.
(That's your dream job too, right? 🤩)
But supporting this remote work culture is something very challenging. So, we've been using some of the best tools that enable us to work effectively from across the country.
How do we know that? We've tried and tested over <number> productivity tools in last 2 years and narrowed it down to these 5 that we use every day.
Notion
Notion is described as an "all-in-one workspace" but for us, it has been that one missing piece of the puzzle which transformed the way we work.
If you haven't heard about Notion — well, it is a web-based tool used for project management and note-taking.
It is our go-to application for FAQs, important docs, daily tickets, and a major part of everything that we do — more like our whole work-world on one whiteboard.
But why Notion, out of so many tools available outside?
Here are 5/1000 reasons why we use Notion:
Nesting of pages (that is, creating unlimited sub-pages inside the main page).
Adding a variety of different types of content, such as lists, images, and embeds, & many others
Easy to use drag-and-drop to feature to arrange stuff more neatly.
Just like a planner, one can simply tick tasks off from their list.
Designing one's own layouts with text, headers, toggle lists, tables, call-outs, etc.
Instead of juggling between 20 tools, we just have everything right there, in front of us, on one specific platform.
It helped us scale up our team collaboration, and team productivity to a great extent.
We can go from scribbling down notes to putting up the whole document — everything within a few minutes.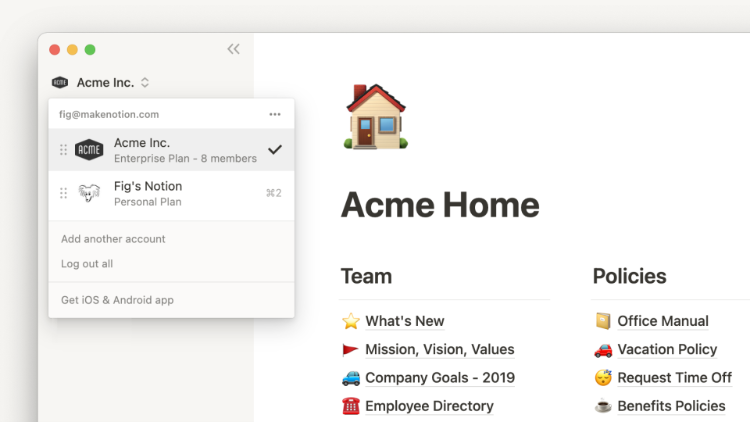 How we organize our work with Notion
1. Every teammate has their own workspace where they do their daily tasks.
2. All important documents like How-to guides, systems & processes, etc. are created and shared here.
3. Our go-to tool for storing huge databases and tons of data.
4. All major details around payout/salary tracking, leave tracking, time tracking is maintained here.
For us, Notion is a scribbling pad, a notebook, a rough page, a scrapbook, and a personal diary all rolled into one.
Discord
Our GrowthScribe team is entirely remote and this has left our team members separated by walls, windows, mobile data and wifi.
So for our team to stay connected, and updated — we use Discord for real-time chats and staying in touch throughout the day.
Whether for assigning tasks, asking quick doubts, or just talking about that one annoying coworker (xD), Discord makes it easy for us to stay in touch 24/7 (literally!)
It is a great place for us to hang out, gossip, talk about work, and do everything in that line.
We have built several channels (or digital water cooler as we call it) like:
#team-campfire — In this channel, teammates can hop in & out whenever they want. It's an open channel for everyone to chat, celebrate wins or just chill.
#team-announcements — It is the place where teammates stay in touch with the company. All the company news, achievements, and changes are first updated here.
#team-coworking — Having doubts? Getting bored working alone? Need a little helping hand with some tasks? Be it anything, teammates can join this channel and work together!
#team-health — This channel is for motivating each other to eat well, work out, and maintain a healthy lifestyle. There's no pressure to do anything big, just small, healthy habits 😉
and many more!
With important features like a super handy mobile app, not-messy threads and unlimited message storage, it's easy to keep our whole team in the loop.
Calendar
It's understandable how busy a working schedule can be, especially with remote team members.
And we don't want to stuff our brains with all the timing of our daily catchups, client calls, training sessions, games day and much more (there's always a lot happening in the team 🌈)
So, for this, we schedule it in the Google calendar — which is a time-management and scheduling software.
Here when once an event is scheduled, all its participants get a notification 30 minutes beforehand, and ensures no one's late!
With all the available slots shown in the calendar, it allows us to fix a call that perfectly fits everyone's schedule and as it automatically generates GMeet links, it is easier to do the calls.
No more back and forth texting and with less time wasted in the inbox, there's more time to spend on what matters the most.
BerryCast
Sometimes, our calendars are packed with events, client meetings, and deadlines and we just can't attend some important internal team meetings.
But with busy schedules, we can't just "skip" on it.
This is where BerryCast comes into play — It is a screencasting tool that has all the simple-to-use features like screen recording, and screen sharing.
It is like Harry Potter's magic wand for people working in a remote team.
Whether we're on our laptop, phone or tablet, we just use BerryCast to quickly record a video and share it right away.
Instead of typing up long text messages, or jumping on a call, just clicking on "Record your screen" gets the job done.
This makes it easier for us to share our feedback, assign new tasks, clear doubts, and pass on the knowledge as it gives the team the liberty to watch and re-watch it as many times as they want.
Using a video-feedback tool helps in creating a friendly new approach of giving & receiving feedback.
The simple interface makes it super easy to edit and annotate audio-video messages.
Google Meet
Remote work demands a proper and clear communication.
Be it our everyday catchups, conferencing, fun sessions, or games day, having a great tool like GMeet makes it so much easier.
Combining video and audio, a live video-call makes the conversation extremely lively and works for anyone, anywhere.
As everyone at GrowthScribe is pretty vocal and loud, and Google Meet allows us to express ourselves better and have fun with our teammates.
With video, we get to see each other's faces, smiles and hand gestures. Simple things like this just instantly strengthens the trust and bond we need in a remote team.
What we like the most is — Google Meet has a super smooth interface and great mobile optimization. This just makes communicating on it every day a breeze!