Save time
Zapier automates the most frustrating parts of your job saving you thousand of minutes — literally.
It helps you automate processes and centralize the repetitive tasks and workflow that saves you hours from logging to dozens of different platforms.
Level up your business
With all the time saved from automating your project, you will be able to focus on other aspects of your business.
Having these extra hours will inspire you to think in different ways. You can use it to increase your productivity, improve brand marketing or simply enjoy the additional free time.
Reduce manual errors
Repetitive manual work, such as entering information from one web app to another, carries a risk of errors.
Zapier automation takes your tasks off your plate and gets them done for you. That way, you can focus on the bigger picture, instead of getting stuck in the details.
Remove confusions
Processes shouldn't be hard. They shouldn't be overcomplicated. And you shouldn't sweat to understand them.
Zapier automation keeps the process clear and organized. Every step in the process is automated so that you don't get confused.
Why do you need a Zapier expert?
Zapier experts are automation geeks.
A person spends hours in setting up a workflow that a Zapier expert can do in minutes.
Zapier consultant, Zapier Certified expert, Zapier freelancer, Zapier developer (whatever you can call them) is someone who is a certified expert in streamlining a business process with automation.
A Zapier specialist will help you build the right automated workflow that transfer information between your software without your time getting consumed.
While our Zapier experts are busy syncing everything to your favorite software tools, you can totally focus on what really matters: growing your business.
Our recent projects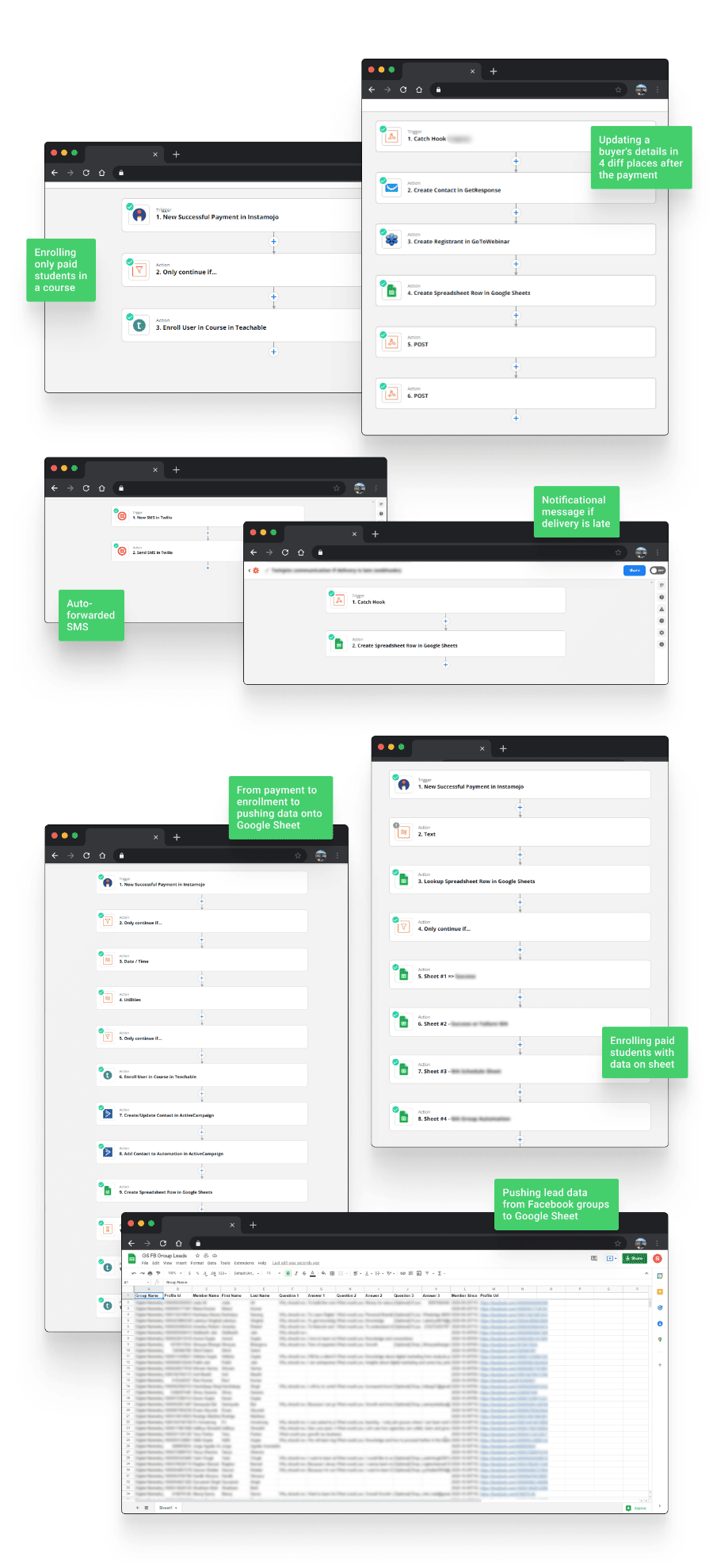 Filling up the form
First you fill-up the form with all your automation and integration requirements, the platform you want to integrate, & other expectations.
Creating quote
We then bring on the table the service cost depending on the estimated time of completion (our base price is $35/hour).
Getting started
Once you accept the proposal, our expert gets started with the automations and delivers the work in the promised time frame.
Automate tasks
Helping you save thousand of minutes by automating all your complex business operations.
Fix broken zaps
Locating and fixing errors in your Zapier automation and creating an alarm for future zap errors.
Consultation
Helps you get over the difficulties in understanding what exactly you want to automate.
What automation you need help with?
Calendar booking
Don't waste any more time manually scheduling appointments, our expert will do it all for you.
Automating your calendar booking system allows your customers to quickly book an appointment (like paid or free consultation) that perfectly suits both of your schedules.
It just makes scheduling, rescheduling, and cancelling appointments at any time, on any device possible without you ever having to pick up the phone.
Lead gen
In order to engage with your existing and potential clients on a deeper level, you need to get information about them.
Be it from your website, landing pages, social media, etc. we help you collect these leads that can further be used for lead nurturing and converting them into customers.
Our zap expert will then seamlessly integrate your other tools, such as CRM, email marketing tools, and push the data there.
E-commerce
Automations make it easy to avoid the common pitfalls that come with e-commerce, and have a simplified process.
Zap expert will simply automate the processes that can help save time, money and even get rid of errors and avoid the worries of handling huge databases.
Be it inventory management, customer segmentation, high-risk orders, team communication, and things along those lines — we'll take care of it
Posting regularly on your favorite social media platforms is one of the biggest marketing mantras that you can do in minutes.
With just one trigger all of your social media can be handled – no more wasting time away on tasks like posting content, replying to comments, messages, etc.
Use your time and energy in creating a new campaign or plan a vacation with family – let our expert handle it.
Why our clients love us
[wp_social_ninja id=250 platform='reviews']
All your questions answered
Certified Zapier experts are people who specialize in marketing automation, business automation and streamline complex workflows that help you save your time and money.
The things with Zapier is, it's use case is huge.

From small businesses to established brands, everyone can use it.

As a business owner, you know the value of time and money spent.

Instead of wasting valuable time coming up with complicated systems – you can use Zapier to automate the web services that you and your team use on a daily basis.
Absolutely! If your software has webhooks or API, it can be done.
Facebook, Hubspot, WordPress, Shopify, G Suite, Teachable, Thinkific, Clickfunnels, Kajabi, ClickUp, Notion, Trello, Google Docs, Google Sheet among 2000+ others.
Yes, even if one of your app isn't on Zapier website, you can still use it.

Not all software apps have an existing Zapier connection.

If this is the case we can create a custom integration using APIs and web-hooks between the two applications you want to connect.
We follow a crisp 3-step process for delivering the complete automation project. You can read more about it here.
Ready to build some smart internal systems?